One possibility is AutoCorrect settings were changed.
To fix this, click the Microsoft Office button, select Word Options. Under Proofing, click AutoCorrect Options.... Under AutoFormat As You Type tab (in the Automatically as you type section), make sure that the "Set left- and first-indent with tabs and backspaces" option is checked.
5
Use Alt+Shift+Right Arrow. You're welcome.
5
Alternatively, you might want to try increasing the indent with ctrl+M and decreasing the indent with ctrl+shift+M.
These are the keyboard shortcuts for the "increase indent" and "decrease indent" toolbar buttons.
1
I was face this problem, and finally found the solution as follows:-
1. Go to **Home** ribbon.
2. In **Paragraph** group, click dialog box launcher.

In Paragraph dialog, go to Indents and Spacing tab, then click Tabs button.

(source: briarcliff.edu)
Adjust Default tab stops value to any value greater than 0 cm (default is 0.5 cm).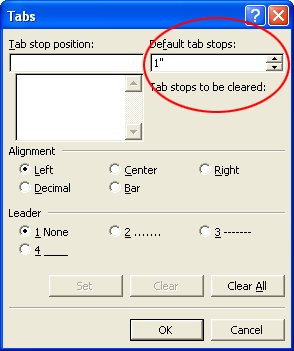 1
48